China has alerted India about the rising water in river Tsangpo, called Siang in Arunachal Pradesh and Brahmaputra in Assam, leading to possibility of floods in downstream areas, Arunachal Pradesh MP Ninong Ering said today.
"The local authorities told me that the Chinese government has conveyed to Indian government that there is a possibility of floods in parts of Arunachal Pradesh. We have taken the alert seriously and cautioned people," he told PTI.
Ering said the communication from China came following heavy rains in that country which has swollen Tsangpo. 
"The local authorities told me that the Chinese government has conveyed to Indian government that there is a possibility of floods in parts of Arun .. 
After massive floods ravaged Kerala, the situation seems grim in North East India as over 12 have died so far in Nagaland due to landslides and flash floods. Assam and Arunachal Pradesh remain on high alert due to heavy rainfall in upper riparian China.
The Central Water Commission (CWC) has, however, said that the situation should not create panic as an increase in China's Tsangpo river should not inflict very severe damages on the Indian side, even as it asked the states to remain vigilant.
Incessant rain in Nagaland since July have caused floods and landslides in several areas claiming at least 12 lives and rendering thousands homeless. The Chief Minister of Nagaland, Neiphiu Rio, tweeted seeking help — with a video showing the damage that is caused in Nagaland due to this rain.
#Nagaland needs your #help. Incessant rain has caused floods & landslides in several parts of the state & have affected many. #Relief #helpinghand #NorthEast @PMOIndia @narendramodi@HMOIndia @rajnathsingh @KirenRijiju @MDoNER_India@DrJitendraSingh pic.twitter.com/OC3fmLYCcB

— Neiphiu Rio (@Neiphiu_Rio) August 29, 2018
Major roads, including NH-29 was severely damaged, while landslides isolated several villages from the mainland. At least 4,000 families have been evacuated so far by the state disaster response authorities, with the state government seeking more help from Centre to carry out relief operations. The worst-affected areas included state capital Kohima, Tuensang, Wokha, and Dimapur.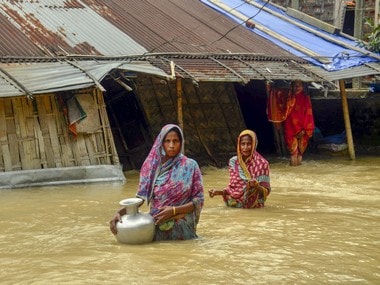 Representational image. PTI
According to official records of the Assam State Disaster Management Authority, at least 50 people have died in flood and landslide in Assam this year. According to All India Radio, at least  15,000 people have been affected by flash floods in Assam's Golaghat and Dhemaji districts.
More than 600 hectares of crop area was severely damaged and over 1,488 people continue to stay in relief camps as low-lying areas remain inundated. Three rivers in the state — the Dhansiri, Brahmaputra and Jia Bharali — are flowing above the danger mark. If Brahmaputra swells any further following the rainfall in China, it could be especially devastating for the state.
Assam is highly flood-prone even in normal monsoon conditions. The state's river waters collect a tremendous amount of silt and other debris and raise the level of the river beds. Therefore, it becomes impossible for the main channel to cope with the vast volume of water received during the rains. Reports from Dibrugarh said the district's deputy commissioner Loya Maduri has directed the stakeholders to remain alert about the possible rising of water level of the Brahmaputra. Similar measures have also been taken in Dhemaji district, official sources said.
In Arunachal Pradesh, people living in low-lying areas like Jarku, Paglek, SS Mission, Jarkong, Banskota, Berung, Sigar, Borghuli, Kongkul, Namsing and Mer, along the Siang river have been asked to remain alert as China reported that Tsangpo river, called Siang in Arunachal Pradesh, was in spate. The unusually high waves in the Siang river have created fear among the people of the two Arunachal Pradesh districts and the administration has cautioned the people to refrain from venturing into it for fishing, swimming and other activities, an official said.  Large-scale erosion was seen on the left bank of the river towards Lower Mebo of Mebo sub-division in East Siang district in the past few days and 15 houses were washed away in Seram-Ramku village, the official said.
Mebo MLA Lombo Tayeng, who is also an advisor to Chief Minister Pema Khandu, said that river water at present is "totally muddy which indicates that there might be some activities in the Chinese side". The MLA also urged upon the Centre to take up the matter with Beijing and sought flood control measures. A red alert has been hoisted for residents of Borguli, Seram, Namsing, Mer and Sigar villages on the left bank of Siang as water volume in the river is rising, he said adding it was due to large-scale siltation on the river bed.
The Chinese authorities alerted India about the unprecedented situation where Tsangpo broke a 150-year record with swollen waters and informed the Centre about a possible flood-like situation in downstream states of Arunachal Pradesh and Assam. According to a Chinese government report, 9020 cumecs of water was discharged into Tsangpo as observed at various stations until Wednesday.  The Tsangpo river originates from China's Tibet and flows into Arunachal Pradesh, where it is called Siang, and then Assam, where it becomes the Brahmaputra, and later drains into the Bay of Bengal through Bangladesh.
This was the first time this year that China shared the river data with India, the official said. China began sharing data from 15 May, while it started sharing data for the Sutlej river from 1 June. The sharing of data came after the two sides held talks over the issue in March this year. The data is shared twice daily until October this year.
China provides data from three hydrological stations — Nugesha, Yangcun and Nuxia, lying on the mainstream of the Brahmaputra, also known as Yarlung Zangbu by Beijing — and from the hydrological station at Tsada for the Sutlej river, known as Langqen Zangbo.
With inputs from PTI