From Assam to Nagaland to Meghalaya, an army of 100 'green commandos' — between the ages 18-30 — are going from village-to-village and school-to-school to spread knowledge about local foodisms, bust myths about organic farming, and revolutionalise the way the region eats.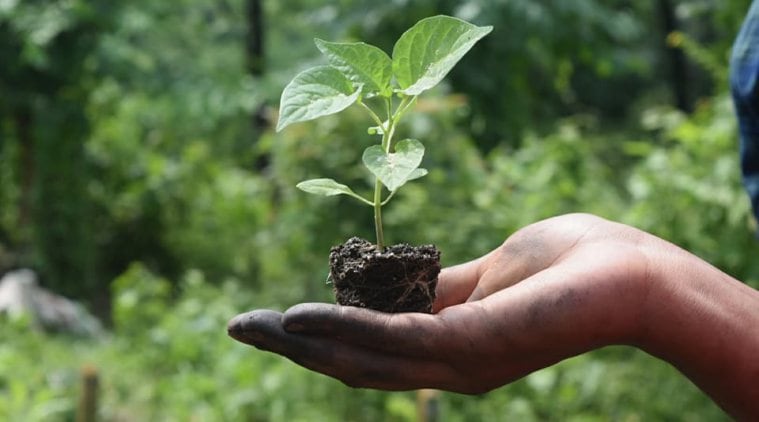 The first time Ittisha Sarah — a 25-year-old resident of Guwahati — used a koor (a heavy-duty spade), she did it effortlessly. She was with a group of 20, in a hill in Sonapur, about 15 km from Guwahati, planting saplings. "Digging and planting in silence — that was the mandate," she says. Now when she looks back, she realises that it was probably "a sense of zeal" — instilled by "just being in nature"— that made the process of wearing gum boots, using a koor, digging a pit and planting saplings so "effortless." "Of course, it is hard work, but somehow when you are there you don't feel it is," she says.
Since May 2018, Sarah is a certified "Green Commando" — a new-age farmer, if you will, whose primary aim is to bring back to the plates of the population, healthy, wholesome, indigenous local food. Prerona Probor Gogoi, a 27-year-old technical officer at the National Food Security Mission in Dibrugarh, devotes his second and fourth Saturdays "to the community." He, too, is a Green Commando, and has adopted a local school where he teaches kids how to make make vermicompost beds, rustle up bio-pesticides, and grow vegetable patches at home.
XFrom January 2017, the organisation has been holding three-day farming camps that gives youngsters hands-on training in organic farming.
Both Sarah and Gogoi are products of Spread NE (Society for Promotion of Rural Economy & Agricultural Development, Northeast), an NGO started by Samir Bordoloi, that has one, basic aim: to get local people to eat local food from local resources. From January 2017, the organisation has been holding three-day camps that gives youngsters hands-on training in organic farming up on a hill in Sonapur. Called the Farm Learning Centre, complete with a fishery and a food forest, this is one of six model organic farms created by Bordoloi in the Northeast. The others are at Jorhat and Tinsukia in Assam, Dimapur and Jaluki in Nagaland, and Imphal in Manipur.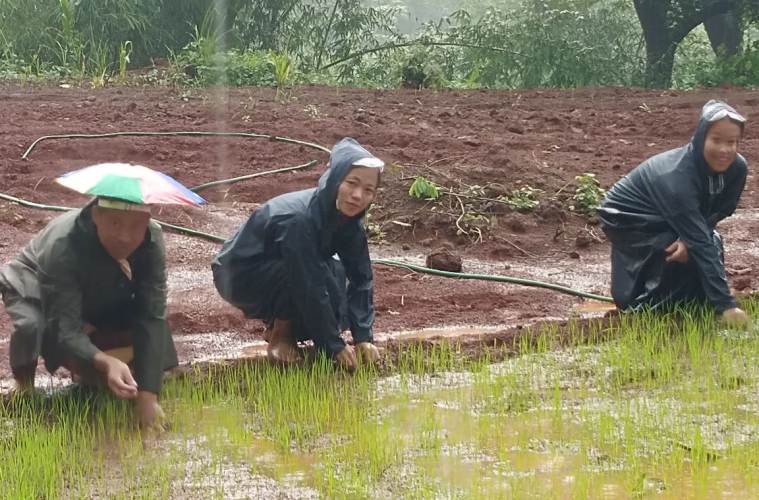 Spread NE is working in Nagaland, Meghalaya, Manipur and Assam.
Bordoloi, who won the Agri-preneur Of The Country award in 2017 conferred by MANAGE Hyderabad and the Government of India, feels that when it comes to indigenous food, a region like the Northeast has great potential. "Take Assam for example, you just need to cast a fishing net, and there will be delicious fish on your plate. Step into your backyard and you will get yummy, healthy herbs. Here, nature feeds us," says Bordoloi. The "agripreneur" or "agriculture-entrepreneur" (who insists on calling himself a 'farmer') is of the opinion that this is the region's biggest advantage and the only way farmers can become "independent self-sustaining entities" again. "Food is the biggest industry in India with farmers as the main stakeholders. And yet they are the poorest," he says.
The founder of Spread NE Samir Bordoloi won the Agri-preneur of the Country award in 2017.
While Spread NE, which started in 2014, looks into revitalising the indigenous food habits of the local populace, its ramifications are larger: farmer independence, alternative livelihood skills, youth employment etc.
Today the NGO is working in Nagaland, Meghalaya, Manipur and Assam and has created three farmer cooperatives, adopted 60 schools, deployed 110 active Green Commandos, and has more than 1500 women members working under it.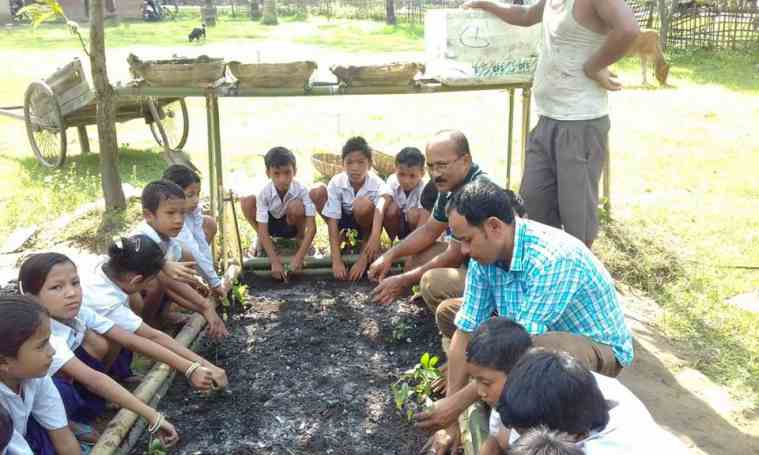 The Green Commandos of Spread NE has adopted local schools across the region.
Spread NE has its roots in 2005 when Bordoloi started a plant health clinic in Jorhat — a one-roomed establishment  to give "prescriptions to people about their plants". "No one showed up!" he says. Bordoloi then started taking his bike, his backpack filled with organic inputs, to the remotest villages of Upper Assam. "I started giving them (unsolicited!) advice about sustainable organic ways of farming. Slowly when they saw the benefits of my methods, they started warming up," he says. Within a year, the farmers would be waiting for Bordoloi's bike.
Later, Bordoloi forayed into rural schools. "The kids were enthusiastic learners. They came from very poor families," he says, "My stint with one of the schools there became so successful that we ended up launching a vermicompost brand named after the school: Chitralekha. From this little project, the children started earning. Very soon, their mothers wanted to learn. The kids had become an agent of change!" he says.
Even today, Bordoloi's focus group remains children and young people. "Our organisation is working toward getting commerce into agriculture — to convince youngsters that the sector is as remunerative as and comparable to any government job," says Bordoloi.
Spread NE's three-day farming schools — which Gogoi and Sarah were a part of — aim at producing agents of changes who bridge urban-rural gap, connect farmers to consumers and teach younger children and women the benefits of setting up organic nutrition gardens in individual homes as well as schools.
"When an Assamese child goes to school, he learns about celery and lettuce, but he wont' know what manimuni (a popular indigenous herb in Assam) is," he says, "You can teach kids the value of what they are eating by teaching them how to grow it. The feeling you get when you eat a tomato you have grown with your hands is something else."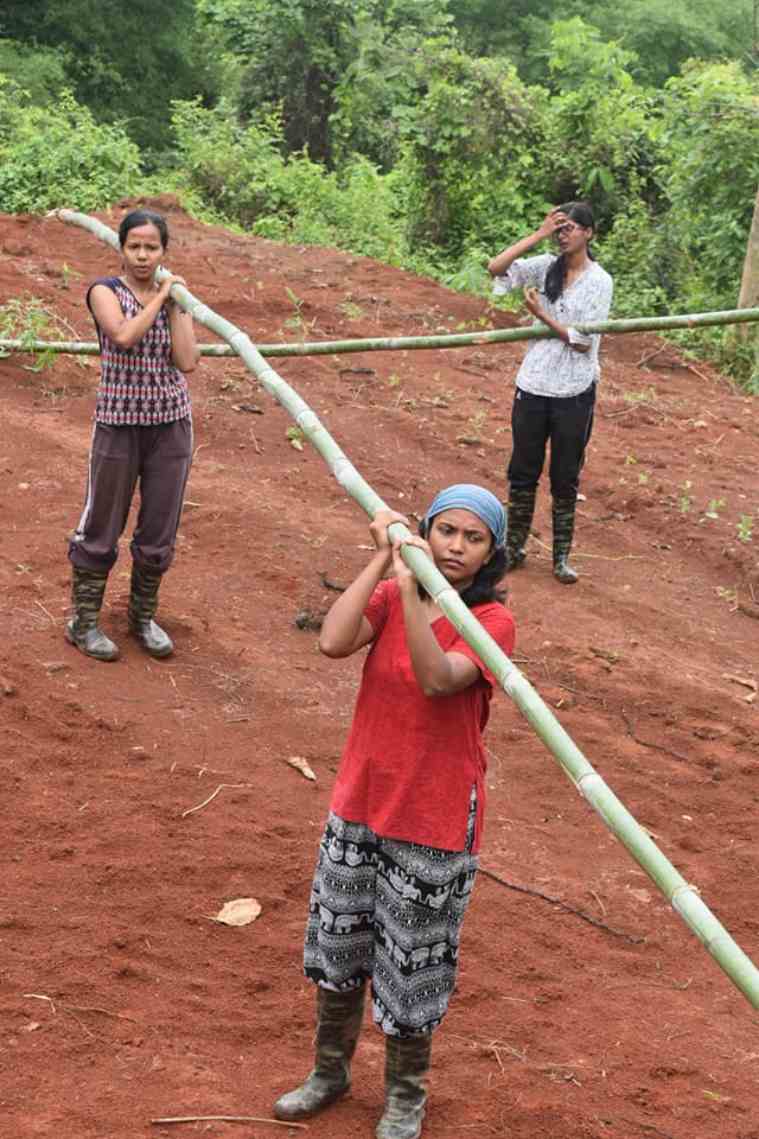 Three-day farming camps are held for youngsters from across the country.
In Dibrugarh, when Green Commando Gogoi, goes to different schools, he makes it a point to impart practical knowledge. "Lectures have a limited scope, but what we really teach children is how to get their hands dirty," says Gogoi.
Many times, Gogoi, finds the villagers are afraid to switch to a fully organic practice. "They are game to do it in smaller areas, but afraid to experiment," says Gogoi, "Sikkim is a fully organic state, and so can the rest of Northeast but it cannot happen overnight." Adds Bordoloi, "Organic is perceived to be expensive but it does not have to be if you know how to use the local materials (already available to us) well."
Recently, Spread NE has been working in Bandorgok —  a village in Kamrup district which primarily comprises a Karbi population. Earlier in June, when two Guwahati youths Nilotpal Das and Abhijeet Nath were lynched by a Karbi mob, it unleashed widespread anti-Karbi feeling, especially among the Assamese.
Volunteers working at the Bandorgok Prathmik Vidyalaya in Bandorgok village.
Green Commando Sarah, who was very close to Nilotpal and justifiably disturbed by the incident, felt that it would be positive step to to work in Bandorgok. "I wanted to get to the root of this hatred. I also wanted to emphasise that there was no point in ostracising the entire Karbi tribe for what had happened," she says.
Right from day one, Spread NE's work in Bandorgok has had a positive impact. "We started with the kids at the Bandorgok Prathmik Vidyalaya and got a great response," she says. Next week Sarah and another friend, Gaurab Das, will be talking to 88 households in her locality in Guwahati, about buying produce directly Bandorgok farmers. "We are trying to connect individual rural farmers to individual urban families by eliminating the middlemen," she says. This is another one of Spread NE's objectives: connecting consumer and farmer directly by bypassing the middlemen. "The farmers earn a better profit, and the consumers get better food," says Bordoloi.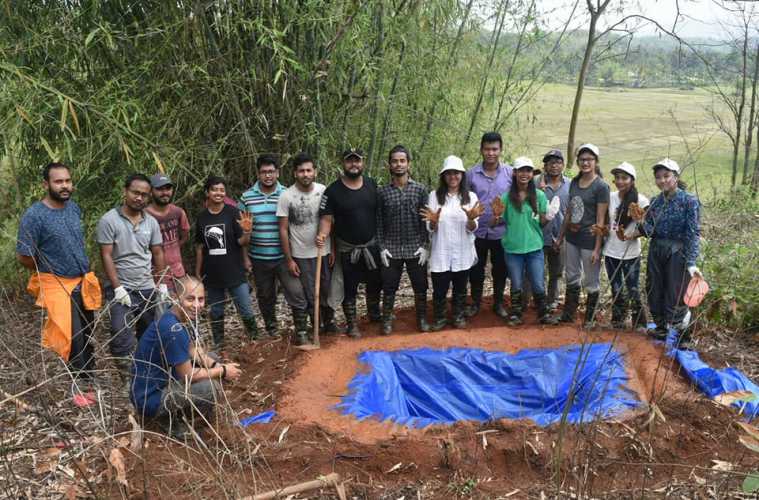 Green Commandos at Spread NE's Sonapur centre.
Just a few weeks backs, about 10 Karbi youths came to Spread's Sonapur Centre to learn farming. "When we were building the nutrition garden at the Bandorgok school, they were extremely cooperative. They hosted us, they fed us and they were extremely warm," says Sarah, adding that the children especially, were extremely receptive. The conventional school curriculum might teach a lot but they don't teach qualities like love, compassion and empathy. "Apart from everything else, we are using farming as a means to teach those qualities as well," says Sarah.
by Tora Agarwalla, The story first published in The Indian Express