Justice Ranjan Gogoi, one of the four Supreme Court judges who had held a press conference in January this year against the present chief justice, is set to be appointed the next Chief Justice of India, reports said.
The current Chief Justice of India Dipak Misra, as a matter of convention, recommended Justice Gogoi to be his successor.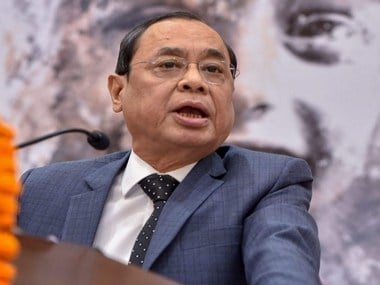 File image of Supreme Court judge Justice Ranjan Gogoi. News18
Justice Gogoi's tenure will last till 17 November, 2019. He is set to take oath as the next Chief Justice of India on 3 October.
In July, Justice Gogoi had said that a "revolution, not reform" is needed to keep the institution of judiciary serviceable for common people, asserting that the judiciary would have to be more "pro-active" and on the "front foot".
Delivering the third Ramnath Goenka Memorial Lecture on "Vision of Justice", the judge had told a packed Teen Murti Bhavan auditorium in Delhi that the judiciary was the "last bastion of hope" and has been "a proud guardian of the great constitutional vision".
In the January press conference, Justice Gogoi — along with Justices J Chelameswar (since retired), MB Lokur and Kurian Joseph — had said that the situation in the top court was "not in order" and many "less than desirable" things have taken place.
Unless this institution is preserved, "democracy will not survive in this country," the four judges had said.
The four judges, in their seven-page letter to the chief justice, had said, "It is too well settled in the jurisprudence of this country that the chief justice is only first amongst the equals — nothing more or nothing less."
"It is with great anguish and concern that we have thought it proper to address this letter to you so as to highlight certain judicial orders passed by this court which have adversely affected the overall functioning of the justice delivering system and the independence of the high courts besides impacting the administrative functioning of the office of the Chief Justice of India," the letter had further said.
"There have been instances where cases having far reaching consequences for the nation and the institution have been assigned by the chief justices of this court selectively to the benches 'of their preference' without any rationale basis for such assignment. This must be guarded against at all costs," it had said.
With inputs from PTI