A senior UN official tasked with promoting gender equality and youth partnerships has been sacked for sexual misconduct following claims made against him by younger male colleagues.
Ravi Karkara, an Indian national based in New York, was dismissed from his post at UN Women on Friday following an investigation lasting nearly 15 months.
In a statement on Monday, the executive director at the division said an investigation into the allegations had upheld findings of sexual misconduct, and the UN was ready to work with police on any further investigation.
Phumzile Mlambo-Ngcuka said the dismissal of Karkara, who was not named in the statement, was the strongest disciplinary measure available within UN rules.
She added: "I can also confirm emphatically that the former staff member cannot be protected by diplomatic immunity.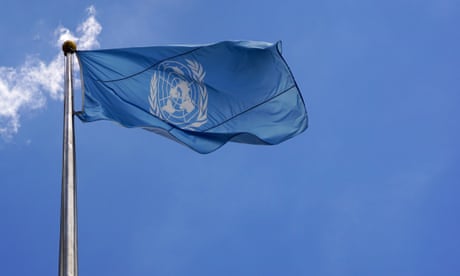 "Although UN Women does not have the authority to prosecute, the UN is guided by its obligation to bring credible allegations of criminal conduct to the attention of the relevant national authorities."
Karkara was suspended on full pay last year following allegations that included those in a 23-page complaint filed in June 2017 by policy advocate Steve Lee, 25. He said the senior adviser had sent him links to pornography and grabbed his genitals through his trousers when they were alone in a hotel room.
Others, including Muhammad Junaid Mandoori, 26, told the Guardian that they had been stalked online, bombarded with indecent images, and asked for sexual favours in return for opportunities within the UN.Advertisement
Mandoori, who said he had been sexually harassed online for two years, welcomed the news of Karkara's dismissal. "The decision is a relief for me and other victims. I hope a police investigation will now follow and there will be justice for those affected."
However, campaigners said the positive steps taken by UN Women should be considered against the backdrop of "deep systematic failings" of the UN at large.
The legal adviser for campaign group Code Blue, Sharanya Kanikkannan, said: "Many of the actions taken by UN Women surpass the actions taken in recent months by other UN entities.
"The same UN organisation which promises to refer this case to the authorities is responsible for sitting on dozens of cases of civilian peacekeepers, from as far back as 2015, among which not a single one has ever been referred to justice."
Kanikkannan said questions remained unanswered regarding the Karkara case, including the issue of why UN Women had declined to name him, why a copy of the report would not be shared with victims, and why the adviser had not been referred to police earlier in the process.
She said: "Firing a staff member is not a punishment proportionate to the severity of the crime. It remains to be seen if the UN follows through on its obligation to cooperate with the authorities. Its system-wide policy of jumping the line ahead of police action has undoubtedly already jeopardised the justice process."
The investigation into Karkara was carried out by the UN Development Programme's Office of Audit and Investigation, which delivered a report to UN Women at the end of August.
Speaking to the Guardian before the announcement, Purna Sen, UN Women's spokesperson on sexual harassment and discrimination, said she had not been privy to the document so was not aware of how many victims were involved.
And she said the division was unable to name Karkara in its statement due to a General Assembly resolution that protects the privacy of those facing disciplinary action.
However, she added: "While the spotlight has been on the UN in light of the #MeToo movement we hope this a very clear, categorical expression of our actions which are of no tolerance to sexual harassment."
Sen said that once the executive director was passed the report, a decision was taken as swiftly as possible to impose the maximum possible sanction.
She explained: "This is UN Women showing that we take this seriously, while the executive director has made clear to staff she understands there is still work to be done and we will work to further create a climate where people feel safe to report."
Since being seconded to her specialist post in March, Sen has been talking to UN employees and holding consultations about how to improve the response to sexual harassment. "It is hoped we can find a harmonised approach to sexual harassment across the UN system," she said.
Source; The Guaridan. If somebody has experienced abuse by UN officials and want to share story, he/she can contact development@theguardian.com in confidence.