Pakistan has promised to retaliate to any Indian 'adventurism'
Indian fighter jets crossed the line of control into Pakistan to carry out a bombing raid against a militant training camp, the Indian government said, causing Islamabad to scramble its own aircraft in response.
The operation early on Tuesday was the first major military response to the militant car bombing in Pulwama, Kashmir earlier this month which the Indian government blames on Pakistan.
The Indian aircraft crossed into Pakistan-administered Kashmir and "released a payload" towards Balakot in Khyber-Pakhtunkhwa province, said spokesperson for the Pakistan Armed Forces Asif Ghafoor.
Pakistan called the sortie "a grave aggression by India". In a brief statement, Pakistan's foreign minister Shah Mahmood Qureshi said India had violated its territory and that Pakistan reserves the right to respond.
India's ANI news agency, quoting air force sources, said 12 Mirage 2000 aircraft crossed the line of control at 3.30am on Tuesday and dropped 1,000kg of bombs on militant camps. 
And at an extraordinary media briefing, India's foreign secretary Vijay Gokhale said the raid targeted the largest training base belonging to the Jaish-e-Mohammed (JeM) group. JeM has claimed responsibility for orchestrating the 14 February Pulwama attack.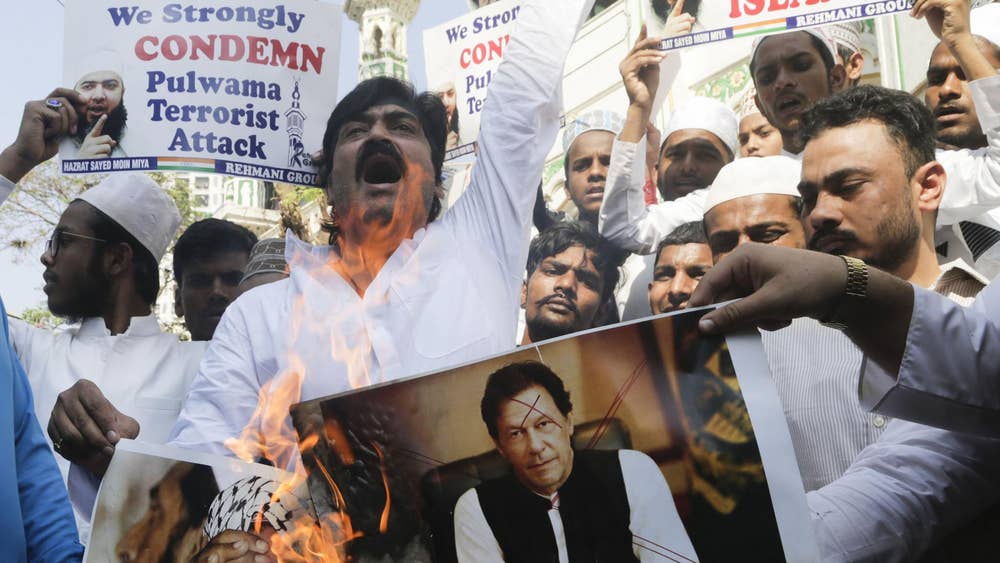 Mr Gokhale said there was "credible intelligence that JeM was attempting another suicide terror attack". "In the face of imminent danger, a preemptive strike became absolutely necessary".
The foreign secretary said the camp was led by the brother-in-law of JeM chief Masood Azhar, and that the operation eliminated "a very large number of JeM terrorists, trainers [and] senior commanders".
The attack was a response to "the menace of terrorism" and not the Pakistani state, Mr Gokhale said, referring to it as "non-military preemptive action". He also said the target, a remote forest camp, was selected "to avoid civilian casualties".  
Prakesh Javadekar, India's human resource development minister, tweeted: "This was a necessary step for the defence of the country, and Prime Minister Narendra Modi had given the armed forces a free hand. The whole country stands behind the armed forces."
Pakistan has played down the success of the operation, with prime minister Imran Khan describing India's account of it as "fictitious". 
Its armed forces posted pictures to Twitter that appeared to show nothing more than impact craters from bombs in forested countryside, and officials repeatedly asserted that the Indian sortie caused neither damage to infrastructure nor loss of life.
Armed forces spokesman Ghafoor said: "Indian aircrafts intruded from Muzafarabad sector. Facing timely and effective response from Pakistan Air Force released payload in haste while escaping which fell near Balakot. No casualties or damage."
India has accused the Pakistani state of allowing JeM to operate within its borders, as well as shielding the group's leader Azhar from being named an international terrorist by the UN Security Council.
The Indian Army's top commander in Kashmir went as far as to accuse Pakistan's Inter-Services Intelligence (ISI) spy agency of "controlling" the Pulwama attack directly.
The day after the car bombing, which killed 40 Indian paramilitary officers and was the deadliest of its kind in Kashmir, Narendra Modi said India would give a "fitting, jaw-breaking response to this attack".
Imran Khan, the Pakistani prime minister, had previous said that any "adventurism" on India's part would be met with retaliation. Later on Tuesday, after convening a meeting of the country's National Security Committee, Mr Khan accused India of "putting regional peace and stability at grave risk". "India has committed uncalled for aggression to which Pakistan shall respond at the time and place of its choosing," he said.
Mr Modi has been under domestic pressure to give a show of force in the wake of the Pulwama attack, which has dominated India's news agenda for almost two weeks. The prime minister is gearing up for a general election which must be held by the end of May.
India has already withdrawn Pakistan's "most-favoured nation" trading status and whacked a 200 per cent tariff on Pakistani goods, though the measly state of the neighbours' cross-border commerce makes the impact of these measures limited.  
Both India and Pakistan administer a portion of Kashmir but claim the entire region as their own. The two countries have fought three major wars over the issue, though not since 1971.
The last time India claimed to have carried out a "surgical strike" against militant camps across the line of control was in 2016, and that was allegedly by troops on the ground rather than an air raid. To this day, Pakistan denies that any such incursion took place.
Courtesy: The Independent