A momentous legal confrontation will take place at the UN's highest court this week when the Nobel peace prize winner Aung San Suu Kyi appears in person to defend Myanmar against accusations of genocide.
Once internationally feted as a human rights champion, Myanmar's state counsellor is scheduled to lead a delegation to the international court of justice (ICJ) in The Hague.
The claim that Myanmar's military carried out mass murder, rape and destruction of Rohingya Muslim communities has been brought by the Gambia, a west African state that belongs to the Organisation of Islamic Cooperation.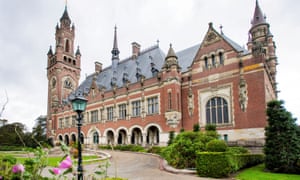 The contrast is repeatedly drawn between Aung San Suu Kyi's 1991 peace prize win and 15 years spent under house arrest, and her present position as chief denier that any ethnic violence has been perpetrated against the Rohingya. Last year, the US Holocaust Memorial Museum revoked her Elie Wiesel award.